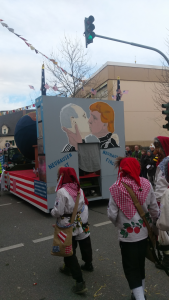 I always feel like a stranger in my hometown Füssen in the Allgäu. The reason for this is simple: Fasching, the traditional carnival in southern Germany. But thankfully, the Fasching euphoria in Füssen is rather moderate compared to the villages surrounding it, like Buching, Hopferau and so on, which you most certainly don't know if you're not from the area.
Reasons to dislike Fasching
But why is that? I simply don't get it. Okay, some of the costumes at the parades are in fact quite funny but – in my opinion – the majority aren't. Most of the costumes are even worse! Hordes of badly-dressed cowboys and Indians! For every creative costume produced after hours and hours of work, there are hundreds of boring Wild West reenactments. And then there's the horrible music. Every year, the same tasteless Schlager playlists penetrate my ears and leave me speech- and breathless ("Atemlos"…)! But for most people at Fasching, it doesn't matter, since the majority of people just need a reason to get drunk and – even
worse – they can't cope with being drunk and behave aggressively.
Any chance of escape?
You might be wondering if it's possible to escape from this madness. Well, if you're living in one of these previously-mentioned Fasching strongholds, there's only one way to do so: build yourself a soundproof air-raid shelter. Sorry. If you're lucky and you live a safe distance away from these danger areas, take advantage – stay away and let the others have their fun. Tastes differ and so do ideas about what a good party looks like.
By the way, in case you have to hand in a seminar paper or something similar by the end of February, see the positive side of it: in the library, you're safe from drunkards in fancy dress and Helene Fischer.
Authors: Thomas Kienast, Sebastian Reimann
Pictures: Noemi Hehl