I'd like to tell you something about my beautiful country, Brazil. In fact, we're heading for Pantanal, the world's largest tropical wetland area, in a Volkswagen Kombi, attached to which is a 1966 Willys jeep. On top of the Kombi, you can see a kayak and two bikes. Everything's set for an unforgettable family road trip with lots of adventures!
It was March 2016 when we set off from São Paulo heading up to the state of Mato Grosso, where Pantanal is located. We drove a total of almost 1,600 km, and spent two days on the road and a few hours of sleep in a cheap motel somewhere. The amazing caimans welcomed us; they were everywhere and we could see them the whole time – what a feeling!
The local road is called the Transpantaneira. It isn't asphalted, so the cars struggled in the mud caused by the previous day's rain. The trip along this road is 147 km long and has 120 wooden bridges in an extremely poor state of maintenance. Yes, the rickety constructions play a big role in this adventure, because going over them is a very risky business, as you can see below.
But the reason why using up so much adrenaline was worthwhile was meeting so many amazing creatures. These guys impressed me quite a lot: giant otters. Seeing a pair of them right in front of me was a dream come true; I didn't know if I should take a picture or step back a bit and be sure I was safe. Giant river otters are extremely cute and are innocent-looking, but they're very dangerous and are capable of attacking and even eating a caiman! Take a look yourself and see how photogenic they are – one of them even looked into the camera! How adorable is that?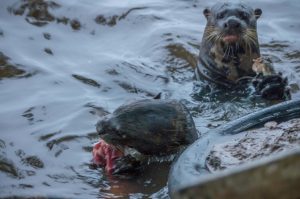 The next lady is very special, a seriema, a large, long-legged terrestrial bird, which had me enthralled because of those eyelashes. Girl, you look fabulous! (I'm not sure whether it's a "girl" at all, but I wish I had these lashes. Don't you girls?)
We also saw anacondas, blue macaws, toucans, southern crested carcaras, capybaras and lizards. The only animal we didn't bump into was the gorgeous jaguar. Maybe we'll be luckier next time, on another road trip around Brazil. Until then, let's keep an eye on the natural world around us and enjoy it as best we can!
Author & Pictures: Gabrielle Pinheiro Machado Rehm