Great news! The University of Augsburg is getting a medical faculty! Wait, that's not really… news. But first of all it's great and what's new is that future medicine students might have to improvise a bit. Why's that?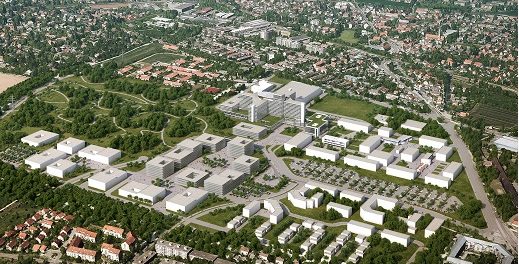 Within the blink of an eye
In 2009 Horst Seehofer promised the university hospital. And on 26th June 2017 the topping-out ceremony for the hospital extension was celebrated. But there is much more work to be done. The future students don't have a proper campus yet and they start studying in 2019! You could say, well, they still have heaps of time left to build a new campus but in these circumstances two years will go by in the blink of an eye.
What needs to be built:

… the main campus consisting of seven buildings with up to eight floors for research and teaching
… car parks for a few hundred professors, teachers and about 1,500 students
… more buildings towards the living quarters in Stadtbergen for teaching and research with up to five floors
… a single huge building for the Mensa, library etc.
… some more buildings for stores, daycare centers and whatever uni life is in need of
… even more buildings for god knows what
They have 99 problems …
… but money ain't one. The new medicine campus will be as beautiful as the current campus, which – by the way – is among the most attractive ones in Germany – so a lot of money and effort will be invested in this project and it's very unlikely that it'll be finished before 2022/2023. So the students will start studying in 2019 – that's more or less definite. You see the problem? Where will they be sipping their coffees, listening to lectures and crying before the final exams if not on their new campus? The answer might be a little hard to digest.
As you might know, anatomy is one of the medicine students' main subjects in their first years. In order to be able to have a look into these dead bodies there has to be space for tables to dissect on. These are only provided in… wait for it… the old pathology rooms. Yay! So hold your breath and don't let the obnoxious smell of death confuse you!  Seriously, this smell is disgusting. The people working there either have to be very, very good with bad odours or they probably just don't have a sense of smell at all. But the good thing about it: students who can cope are one step closer to being good doctors in the aftermath.
New from old and a lot of improvisation
Time management is, as we know, kind of a big deal. But when it comes to improvisation and new from old the management of Augsburg is playing 'first league' matches. For the first few years, the old hospital for children will provide an accommodation option for future medicine students. But the medical-informatics science students will already be accommodated on the main campus starting in 2018. And what a campus this will be! Almost as huge as a whole district – precise.  That's insane! But that's the future. Let's just wait and see when we can finally go to proper medicine student parties and let them cure our alcohol intoxication.
Text: Eva-Maria Presser, Anna-Lena Tischinger
Picture: © Nickl & Partner Architekten AG