How would you define home? Can you have more than just one? Have you ever read a text written by a refugee? Are there ways of helping refugees escape the madness of German bureaucracy – at least for an hour a day? What's it like teaching your own language and culture? And what do you learn about yourself while doing so? Do you believe everything you hear, read and see in the news? What about fake news? Are social media a more reliable way to get informed? How politically correct do you have to be and should we accept a lack of it?
All these questions were discussed on May 31st at the "Aktionstag: Gegen einfache Wahrheiten" held at the University of Augsburg and organized by the Faculty of Philology and History (http://www.presse.uni-augsburg.de/de/unipressedienst/2017/apr-juni/2017_090/).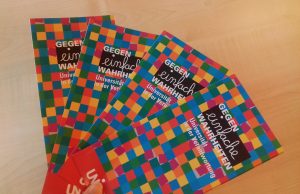 Asking
Twenty different seminars between 10:00 and 11:30 a.m. provided new input and an opportunity to discuss the different topics with other students and lecturers.
The seminar "Ich habe manchmal Heimweh. Ich weiß nur nicht wonach", organized by the Fachschaft Komparatistik, was all about questions such as What is Heimat? Does everyone have one? Can we have more than one? How do we define the term and how does it feel to leave? Can we somehow relate to refugees who have had to leave the place they call Heimat? Are there maybe even more similarities than we would've thought?
While – of course – there were no concrete answers to all these questions, the discussion, including interviews with people who had moved, both within and across borders, was characterized by different views, funny anecdotes and many personal experiences.
Listening
The cultural event between 12:00 and 14:00 in HS I, moderated by Prof. Dr. Martin Middeke, was a colourful mix of musical contributions, presentations and readings.
Sadly, the band Jammu Afrika couldn't perform, since their refugee-lead singer had to leave the country and go back to Senegal. Still, the band's founder Markus Fleckenstein presented the project and played some recordings.
Anita Heckel read from her 'parallel biography' "Gratwanderung durch Gestern" and Prof. Dr. Miriam Zadoff gave an insight into living in Bloomington, Indiana, and teaching at the university after Trump's election. Although we all recognize the worries of those Americans that didn't vote for Trump, this personal report was touching and shocking at the same time.
"Milch ist der Zwilling von Teer / in weiß oder schwarz kann man lügen / Mutter schiebt ein Bonbon im Mund hin und her / Vater telefoniert mit den Fliegen"
Christina Rossi and her students presented their collage on this poem by Nobel prize winner Herta Müller.
Opera singer Cornelia Lanz presented her project "Zuflucht Kultur". Together with Mazen Mohsen and three other Syrian refugees, she performed Arabic folk songs with the German translations and the audience fell in love with this music. One of these refugees, a Syrian girl, talked about how she experienced their dictatorial culture even in small groups of refugees in Germany and how lucky she is – and we should be – to live in a free and democratic country like this.
Acting
Between 15:00 and 17:00 pm, there were various readings and workshops in the city centre and, for example, a walk around the city highlighting important places related to migration.
Watching
At 6:00 pm, the movie "Willkommen bei den Hartmanns" was shown in HS I, followed by a panel discussion about how the movie reflects reality. Does it reflect Einfache Wahrheiten? Since the movie is a comedy, it deals with the topic in a slightly exaggerated fashion; maybe this is the right way to talk about a topic that's not funny, because at least it's a way to start raising awareness.
Authors and Picture: Sophia Brandt, Eva Sitzberger