As the semester break is slowly approaching, it's time to plan your activities, if you haven't already. If you love backpacking, you should definitely try Interrail. It's one ticket that allows you to travel by train across Europe. You can choose between one country (One Country Pass) or several (Global Pass, 30 countries). I did this two years ago and had lots of fun. Three weeks with the Global Pass gave me the chance to travel to three countries, the UK, Ireland and France in the summer.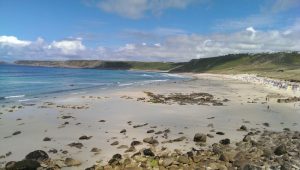 First stop: England
I took the plane from Memmingen to London, so I visited the UK capital first. However, other parts of England you don't usually visit much were more interesting. So I travelled to Cornwall and was stunned by its natural beauty. St. Ives (Cornwall) is a really small town, but it's as beautiful as the rest of this region. When visiting Land's End, you feel like you're in a different country, because it's not how I had imagined England: blue sea, sunshine and very nice paths along the coast. Even beaches. The windy weather is dangerous for sunburn, as I experienced painfully.
Second stop: Ireland
A ferry to Ireland was next. The journey went by very fast and then Dublin was a blast. Street musicians, lovely people, cosy pubs, it has everything. Next stop was the small town of Killarney. With a national park in sight, I rented a bike and explored it. Everything is green and you feel really healthy.
So far so good – but trouble was brewing, unbeknown to me. I mixed up the dates at the end of July. I'd almost boarded the train to the port of Rosslare, when I noticed my blunder. The ferry was departing in a few hours that very day whereas I thought I had an extra day, which is why I booked an extra night in Ireland. Things then got very hectic. Will I ever get to France in time? When does the next ferry depart? Where do I stay till then? I contacted Irish Ferries, and thank God, they were very kind. The next ferry was departing in three days and they cancelled my reservation on the other one. And they got me a ticket for the next trip. I even found a nice hostel in Dublin until then.
Third stop: France
Paris was my first choice in France and I wasn't disappointed. I can very much recommend a Seine sightseeing tour. There are boats leaving every 30 minutes at the Pont Neuf, and it's a really different view from down on the river, especially at sunset. After only three hours aboard the TGV, I found myself on the Côte d'Azur in Marseille. Finally, 35°C and a beach to relax on. And the restaurants have delicious food, especially fish and vegetables from the region.
Go try it yourself!
In the end, it was a fantastic trip. You even get discounts on ferries, and as long as you're under 28, the pass is cheaper. So don't hold back – explore Europe!
Author & Pictures: Thomas Kienast