The guitar music that reaches out at me as I enter Hörsaal II to watch this term's production of the Anglistentheater is soothing, somewhat relaxing. It fits the scene I see on stage where two young children (Lea Bess, Tara Vogel; Milla Hünig, Midori Tran) and a nurse (Julia Teuchner) are playing quietly with a toy ship. However, the lapping of rain and low rumbling of thunder in the background announce imminent disaster.
What's the play about?
Ben Power's version of Euripides' Greek tragedy Medea shows how boundless love can turn into boundless fury. I don't want to give away too much, as you should really experience the story yourselves, but here's a rough outline of the story: Jason (Maximilian Leoson) abandons his two sons and his wife Medea (Lotte Albrecht) to marry Krёusa (Sara Steffes), the daughter of the Corinthian King Kreon (Jack Sigel). Heartbroken and riven by grief, Medea vows revenge on her husband. She wants him to experience the same endless pain she feels after his betrayal. Or as she puts it: she chooses to take back her life. The disaster takes its course.
An absolute must-see
It was the perfect interaction of all relevant factors that made me like this theatre play so much. The casting is spot on, from the bigger roles to the smaller ones, such as the Corinthian women (Kristina Becker, Jasmin Gall, Lucie Marchand), Jason's attendant (Kathrin Bayer) or the King of Athens, Aegeus (Baris Kirat). I especially loved Lotte's performance of Medea, perfectly portraying her as a grieving yet strong and independent woman with a sprinkle of madness in her eyes. Not only were the performances amazing; the sound and costumes need to be praised, too. Medea and Jason are both wearing harem pants and look unkempt, which makes it clear that they are two of a kind. They stand out against the Corinthians, all dressed neatly, all the women wearing more modest make-up than Medea. Ominous music and thunderous rumbling are used to prepare the audience for upcoming disasters.
Go and watch it!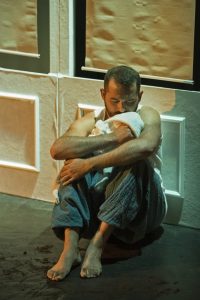 I left the play thinking about what I'd just experienced for quite a while. Can a broken heart really make you perform such evil actions? Do love and madness always go together? Is Medea strong or a psychopath? Or is she maybe both? The fact that it's almost impossible not to think about these things afterwards shows just what a good job the Anglistentheater team has done. With this performance of Medea, they have once again surpassed themselves and exceeded my expectations, as they do every semester. So I highly recommend you watch one of their shows, which take place on Thursday the 07th, Friday 8th, Tuesday 12th and Thursday 14th at 7:45 pm in Hörsaal II here at Uni. Tickets can be ordered online with the order forms or bought at the Taschenbuchladen Krüger located near the Königsplatz.
Text: Jessica Jones
Flyer: Andreas Böhm
Photos: K. Satzinger-Viel