If you think Germans are cold, rational and impassionate, think twice about the people in Augsburg, because if you're out and about on a Saturday night, you might come across a mass of passionate salsa dancers, moving their bodies to the rhythms of Cuban music, sensually drawing close together in a bachata or dancing wild and carefree in a reaggeton.
Augsburg may not look like it, but it is one of the world's salsa strongholds. Internationally-renowned salsa teachers, dancers and DJ's live and work here, the salsa dance schools are numerous and the parties more popular than ever.
If you feel like including Cuban dance moves into your life, Augsburg is the perfect location to do so. You might want to start by checking out one of the salsa parties that take place on the weekends. For a first taste of salsa, I recommend the Latin Black party at the KKlub every first Saturday of the month. With a salsa and a hip hop dance floor on two different levels you can move around freely, so in case you're a bit overwhelmed by the Cuban rhythms you can always find refuge in some good old hip hop songs.
For those of you who prefer a location in the city centre of Augsburg, there is a salsa party every second Saturday of the month at Henry's at the Rathausplatz, where you normally drink your coffee during the day. Another favourite location is the Capitol restaurant near the Moritzplatz, which opens its doors to salsa dancers every first Friday of the month. If you still don't have enough of salsa parties, there's always the Spirit Divan in Königsbrunn, where you can go every third Saturday of the month to enjoy the best of salsa.
If you prefer to learn the basics of salsa dancing first, instead of jumping in at the deep end, let me tell you about the different dance schools you can check out. Emilito's Cuban Salsa P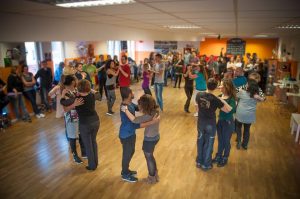 ower offers not only salsa classes, but also classes of other Latin American dances such as rumba, reaggeton, bachata, kizomba and rueda de casino, which is salsa danced in a circle by several couples. The dance school also regularly offers special workshops and free practice parties. Another option is the Salsa Elegante dance school, which hosts the parties at Henry's and the Capitol. They also offer rueda classes in addition to their salsa dancing lessons. Two other dance schools you might want to have a look at in order to find the right one for you are the Los Banditos and the Move Arts.
If you're worried that you might not fit into a group of salsa dancers, let me assure you that you'll find people from all walks of life at the salsa schools and parties. Speaking from my own experience, I can tell you that salsa is something for everyone – no matter how old you are, which country you are from or whether you've danced before.
So, vamos a bailar, chicos!
Author: Noemi Hehl
Pictures: Noemi Hehl; Isabelle Zint