Flashback: People in long-term relationships will know the problem: your partner in crime's birthday is just around the corner and you've already given him the most creative presents about a hundred times. And since I'm a huge fan of personal presents, I can't just buy some random perfume or (God, please save me from this shame) a carelessly purchased gift card. No, I'm a good girlfriend, so I've bought tickets for the Star Wars Identities Exhibition in Munich (until Oct 17, 2016; Munich, Olympiapark), because my boyfriend adores Star Wars like Anakin loves Padme. But to be honest, I thought that he would be incredibly grateful and take one of his best friends with him. But what a surprise; he asked me, the most disinterested person when it comes to Star Wars.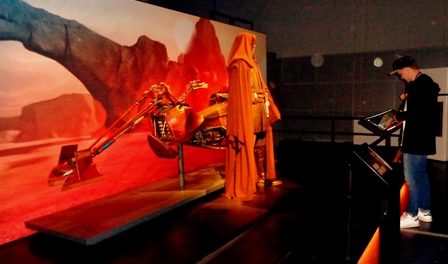 A trip to a completely unknown galaxy
Present: So here I am, entering the audio-guided Star Wars Exhibition. The first room shows some strange figures, creepy masks and weird costumes. I'm a bit confused, so I turn around to ask my boyfriend – who are these figures? And where is the little green goblin who always talks as if he'd never heard anything about grammar and word order? But he's gone. Apparently, I'm joining a trip to a completely unknown galaxy, but my boyfriend feels absolutely at home.
So from this point on please join my very lonely trip into the Star Wars world. As the name already suggests, this exhibition is a journey into the world of Star Wars, but also into your very own identity. So if you go, you'll learn a lot about how your identity is formed. In order to make the exhibition more interactive you wear black bracelets, which will help to create your own Star Wars character. These bracelets store every answer to different quizzes that you have to answer during your journey. As you can imagine, I'm not very good at ans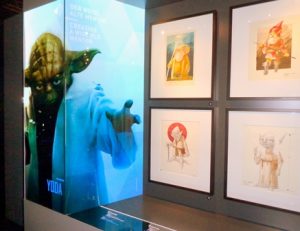 wering the questions since I've no idea whether I was born in Tatooine or Bespin. But I join the game and follow the path to my Star Wars character. On my way to my new identity I pass 200 requisites, costumes and drawings. The little voice in my ears explains every little detail and I learn that the early versions of the little green goblin, called Yoda, looked like a cross between Santa Claus and a garden gnome at first. And while I'm still wondering if Jabba the Hood, who looks like a gigantic slug, is the most powerful criminal, I'm suddenly facing him. Even I know his name and his breathing problems: Darth Vader himself is standing right in front of me. And now every visitor has to answer the most difficult question: should you join the dark side?
Seriously? I'm working for a slug?
After everybody has decided which side they would like to join, the trip ends and you finally experience which Star Wars character you are. And while everyone around me is pressing their bracelets against a huge monitor and waiting enthusiastically for their identity, I'm also experiencing the thrill of anticipation, waiting for my character to pop up on the black monitor. But my initial excitement about my really cool-looking Star Wars character soon fades, as my boyfriend, who has finally found his way back to me, is dying of laughter behind my back. "You belong to Jabba's gang," he screams. Seriously? I'm working for a slug?
After I've overcome the disappointment, I ask my boyfriend if he enjoyed the exhibition. But he says nothing, because he isn't listening to me; he's still staring at his Star Wars character: a Jedi Knight trained by Qui-Gon Jinn. But it doesn't matter that he doesn't answer, because I see the smile on his face and the sparkle in his eyes – oh yes, the force is definitely with him.
Author & Pictures: Julia Huss