Spending a semester abroad has been on my to-do-list ever since I started studying, but you know how things can go sometimes. Plans change, things get in the way, and in the end you have to set your priorities. Last term I finally did get my chance to take an Erasmus semester in Dublin and I honestly have to say that it was one of the best experiences of my life. So here are some things you absolutely shouldn't miss while you're on the green island.
Explore the country. Ireland is really not all that big. With the Bus Éireann lines you can get from Dublin to Belfast in a few hours relatively cheaply. Landmarks like Tara, the Giant's Causeway or the Cliffs of Moher are just a wee bit away. If you're taking a semester abroad, the international societies like the Erasmus Student Network organise trips regularly as well. Ireland is beautiful. Go see for yourself!
Grab a few friends and visit Temple Bar in Dublin. I don't think I'll have to say much about it, but one bit of advice: the famous pubs are
cool, but, well… famous. My favourite place was a small cafe a bit further down the road. You still had the whole setting, but you could actually talk without having to shout at each other or having to cope with getting elbowed in the back. Keep your eyes open and you'll find a bunch of places that are not on tourists' radar.
Check out Grafton Street. There's always stuff going on in one of Dublin's busiest shopping streets. Very close to Saint Stephen's Green (a beautiful park), it leads you straight to Trinity College. On the way you will not only find the Gaiety Theatre, all sorts of shops and restaurant, but also street performers and buskers. You can find some real gems there and occasionally even catch some more famous bands. If you are there around Christmas, prepare yourself for an incredible experience. Choirs, Christmas music and the lights and decorations transform Grafton Street into an absolute winter wonderland. The snow generally gets substituted with cold rain, though.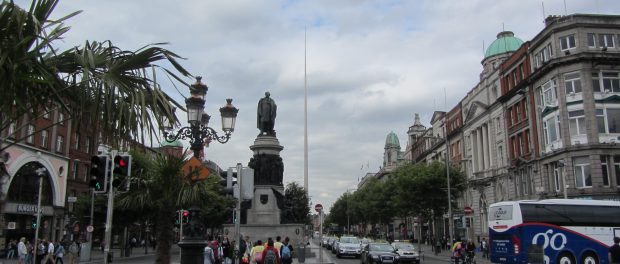 One really important tip for all fellow students: you probably won't be able to get a room at the on-campus residences, at least not until well into the semester. So arrive a week or two earlier, embrace the hostel lifestyle and then use Daft.ie, the local newspapers and the Facebook pages of the international societies (again, ESN helped me a lot here) to find a place to stay. You'll probably be able to get something that's significantly cheaper than on-campus accommodation, too.
Other than that, just be open-minded. The Irish are extremely welcoming (and chatty) people and if you approach them with a smile, they'll pay it back with nothing but kindness. I'll never forget my time in Dublin and I can't wait to return to catch up with all the friends I have made there.
Author & Pictures: Andreas Böhm