Leabharlann – that's the one Irish word I learned and can remember from my recent trip to Ireland. In one part of the country my group and I went to the Irish language is still spoken by many: the Aran Islands in Galway Bay. You can only reach Inisheer, Inishmaan and the largest island, Innishmore (Inis Mór) by boat or plane. If you take the boat and you're lucky, the weather will be fine so you can stand on deck and try to spot dolphins. During our boat ride to Innishmore it was raining, but it cleared up almost as soon as we arrived, and the sun shone for the rest of the day. Sadly, there were no dolphins, but we saw a few seals along one part of the coast, so our daily dose of cuteness was filled!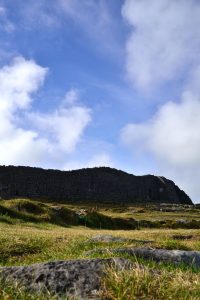 Once on the island, you can rent bikes, or if you're a bit on the lazy side like we were, you can choose a minibus that comes fully equipped with a driver (in our case, a Que sera, sera-singing driver). If you're romantically inclined, you might want to go for one of the horse-drawn carriages waiting for business at the quay. In any case, when you're touring the island, you'll see many of the typical stone walls, which mostly function as enclosures for cattle and which are astonishingly resilient (the walls and cows, just look at them!). There are some green fields that farmers have had to cultivate with seaweed and sand because the island doesn't have naturally fertile soil.
Innishmore is home to about 900 residents, who mostly live in villages that, to me, seemed more like loose clusters of a few solitary houses than anything else. You can still find a few of the traditional thatched cottages, too. Many families used to live off fishing, but now tourism has taken on a major role. The island's past and present have been connected cleverly, though. The knitwear from the Aran Islands is widely renowned. You can buy sweaters, scarves, and many other garments sporting traditional patterns. Every fishing family has developed their own pattern, for a rather gruesome reason: sometimes fishermen went missing at sea and their bodies would be washed ashore days later. They could only be identified from the pattern on their clothes. So a Jennings sweater looks different from an O'Flaherty or a Sheehan sweater!
Like on the mainland, you can find church ruins and a lot of ancient history on Innishmore. One stone fort, called Dún Aengus, was especially impressive. It dates back to prehistoric times and was built right on a cliff with a 60m drop to the sea below. Lying on your stomach and looking down to where the sea is crashing against the cliff is an amazing feeling!
But a one-day trip is definitely not enough to explore all there is to see on Innishmore. Like me, you'll probably want to go back and give your calves a work-out biking across the island in order to discover its many stunning sights! Oh, and btw, Leabharlann means library :).
Text & Pictures: Lena Schwarz