Ash Wednesday is today and that marks the beginning of Lent. For those of you who aren't familiar with this religious holiday, Lent is a Christian holiday that lasts 40 days beginning with Ash Wednesday and ends on Easter Sunday. During this time, people tend to fast or give something up, as for a lot of Christians it is a way of remembering when Jesus fasted in the desert and also a way of testing self-discipline.
I grew up in a very religious and conservative country, where people consider Lent as sacred time and even though I never really gave anything up or fasted during these 40 days while growing up I do know a lot of people who did. Personally, I never felt the need to make a sacrifice, probably because at a young age I really didn't know what it was all about but I do remember seeing a lot of my classmates on Ash Wednesday with the cross on their foreheads really early in the morning or not eating red meat on Fridays during Lent.
I think it's important to mention that my family was not as conservative as the rest of the families in my country and also while growing up I never really went to Church on Sundays; it was really rare if I did, not because I didn't believe in God, but because I didn't think it was important to leave your home when you could talk to God on your own through a prayer, which is what I usually did. All of this might sound really religious and I know it is a controversial topic, but for once I felt that the time was right for me to come clean with my story. I know that people come from different backgrounds and we have different beliefs but since I live in Bavaria now and it is considered the most conservative state in Germany I thought why not address this topic?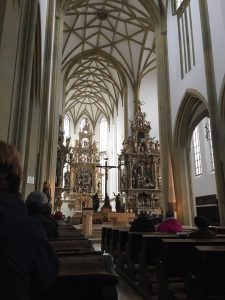 Since the year started I decided I wanted to make a huge change in my life, even though I'm a happy person most of the times I do have my low points and most of them have to do with negative comments from people or rejection, which is why for this holy time I decided that instead of fasting I'm going to be giving up negativity. I think that giving this up is a bigger effort than giving up some sort of food or habit that I have and it will take me through an emotional journey of self- discovery and hopefully it will make me a better person.
The reason I chose to give up negativity is because in this day and age it is so hard to not make any negative comments about things or even be negative towards ourselves. Also because I'm a firm believer that when you have negative thoughts or are negative towards life in general, you're only attracting more negativity and bad things to yourself that you definitely don't need and I want to change this. I want to be a positive person and attract only positive things, and who knows, probably even inspire someone to change their mindset as well.
Have you ever had those moments where you think "I'm so dumb why did I have to do that?" or you found yourself criticizing someone by the way they look without even noticing? These are the type of things I want to battle against these next 40 days and beyond if possible.
I'm a very critical person when it comes to me, I try to do everything as perfect as I can while still having negative thoughts towards my work: what if I fail? What if my professor doesn't like my writing? What if I never make my parents proud? This constant negativity is around every single thing of our lives and we're bringing ourselves down without even thinking about it. Like I said before, I want to try and be a better person and make a change for me, try to finally start putting into work everything I believe in but still my doubts and negative thoughts haven't allowed me to do yet. I want to stop gossiping about people for once or criticizing them just because I don't like the way they look or what they're wearing, I'm nobody to judge and people shouldn't judge me either on any decision I make.
During the next 40 days by giving up negativity I will obviously gain something in return: I will practice patience, humility, self-discipline, things that are so common yet not everyone has the chance to put to practice. I am expecting to become a happier person, more open to the endless possibilities and overall to stop the constant nagging, complaining and whining about everything that goes wrong and finally look at it from a different perspective and grow from the experience.
I am really looking forward to the next 40 days of positivity and happiness. What are you giving up during Lent?
Author & Pictures: Roma Rodriguez