When visiting California, USA, there are a lot of different things to see that come to mind. Whether it's San Francisco with the Golden Gate Bridge, the Victorian Houses and Pier 39, Los Angeles with its famous Sunset Blvd., Beverly Hills and Hollywood, Monterey with its great Monterey Bay Aquarium and Whale Watching Tours or national parks like Yosemite or fun parks like Disneyland, these sights are all well known and you already know about these tourist magnets I'm sure. But what you mightn't already have heard of is "Christmas in the Park", which takes place every year for about five weeks in San Jose.
Festive displays and brimmed trees
Christmas in the Park (CITP) dates back to the 1950s. Free to the public – donations are appreciated – every year there are around five
hundred decorated Christmas trees on display in the park, which is located in Plaza de Cesar Chavez Park in Downtown San Jose. The trees are decorated with different kinds of ornaments by school classes, kindergarten classes, local companies and community organizations. Every tree is very unique and shines with all its really individual embellishments. In addition to firs, you'll find a set of displays that are set up lovingly. There are, for example, elf woodcrafters, a candy store, a Little Swiss Clockmaker's Shoppe, a melting snowman and let's not forget Santa's booth. Of course, there are also vendors – food or other merchandise – so everyone will find a way to spend money, if they want to.
Not only for kids
Obviously, Christmas in the park is a well-designed family venue, as it offers a lot for kids to discover. They're bound to love the fact that Santa's actually sitting there in his booth and they can tell him about their dearest wishes for Christmas, while their parents are taking snapshots. For those who prefer to have professional photos, there's even a photographer. The quality pictures can be picked up a few minutes later. But not only are the youngest among us bound to enjoy the decorated park. The festive trees might also give adults some new ideas for trimming their own tree at home – or they can simply enjoy the park.
"Christkindlesmarkt" is different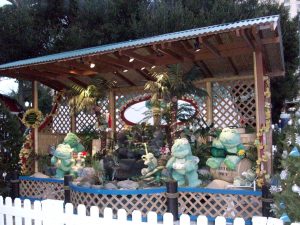 What I really liked during my visit was the special atmosphere. You can walk around the park with all the nicely-decorated trees and the other festive displays. It can't be compared to a "Christkindlesmarkt" that we've been very familiar since we were small. While you're surrounded by the holiday glitter, you se e the large palm trees in the Californian setting, which gives you a unusual kind of experience, especially if this is the first time you've spent the holiday season away from the usual "Let's hope there's snow at Christmas" thinking. Don't hope for snow in San Jose because, you know, it's not gonna happen.
Address: Plaza de César Chávez, 1 Paseo de San Antonio, San Jose, CA 95113, USA
You need more information? Go to www.christmasinthepark.com
Author & Pictures: Angela Czygann