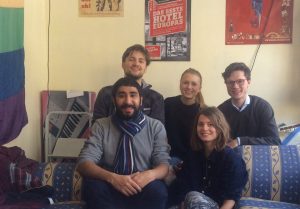 When I started to study, I didn't realize how many different ways of volunteering there are. Since I had to give up my voluntary work in my hometown, I wanted to get involved again. A friend took me to the Sozialreferat at the University of Augsburg. From the beginning, I was enthusiastic about their ideas and I'm convinced that if they're implemented, they'll benefit students a lot. But see for yourself…
Timetabling
Timetabling is not an easy task, especially when you're starting off. Often the lectures clash with each other or you have a job. Module handbooks, professors and even fellow students from higher semesters sometimes don´t make matters better either. Through our schedule support we – the Sozialreferat – want to give you advice and help you with various issues throughout the semester(s).
The Monday meeting (an informal  chat)
We offer an opportunity for an informal chat every Monday. We talk about all kinds of things (concerns, etc.) regarding university and personal things. Sometimes we just act as a sounding board so students get new ideas for their studies and replenish energy reserves. Sometimes you only need a sympathetic ear or an objective opinion to cope.
Seminars
Bafög-Seminar
In this seminar, students find out about the various ways of funding their studies. There are some sources which aren't widely known about, such as study loans, scholarships or housing allowances. We also discuss how and where to apply for these "cash injections" and who is entitled to do so.
Future projects
Social Foundation
Up to now, students here who are experiencing an emergency haven't been able to apply for short-term loans. In certain situations, the Sozialreferat wants to make this possible. So we're trying to convince the responsible ministry.
Psycho-social counseling
In this consultation, we hope to be supported by the Chair of Educational Sciences: in the "Counseling for schools" training course, students have to complete a one-week internship at a counseling center. We'd like to offer this internship on our premises.
Guidelines
With regard to the increasingly heterogeneous student body, a manual with the most important contact information, as well as tips for your studies is being planned. The purpose of this manual is to create a flexible problem-solving resource for students and to complement the work of current and future counselors and employees.
The first semester can be confusing and nerve racking in every way. Receiving timetable aid, for instance, is very important in order to plan your studies efficiently and is one of many factors that will make things less stressful. I still remember exactly how confused and overwhelmed I was in the first semester when I had to create my own schedule which was in the end not very effective. I wish someone more experienced had helped me at that time.
Now being part of the team I hope that we can achieve a lot and that students will benefit from our help. We're there for you for all concerns and problems that occur during your daily student life. We offer you a wide range of services such as consultations, seminars or lectures.
 If you'd like to support us, please contact us and become part of our great team!
Author & Pictures: Carolin Steinke