At our promotion event last week, we had people at our booth contribute to fun short stories. Contributors only were able to see the last sentence or phrase and were asked to continue the story. See what we got out of it. Maybe you'd even like to add to the last one that's still unfinished. Join us on Facebook and continue the story in the comments' section.
Once upon a time…
There were seven clueless losers sitting in front of the Hörsaal I waiting for their plane to arrive, they realized they forgot their child at the check-in. The time they arrived at their hotel in Malaga it was already time for breakfast. Obviously Batman didn't like Blueberry Pancakes, but it always served as an excuse to use that cool helicopter. Sadly he never landed anywhere. So he called Batman, his Bro. He opened a bottle of 'Brosé' and cheered "NO HOMO BRO!!" and then he got eaten by the giant shark that jumped on board, luckily I was saved by my pet velociraptor.
Once upon a time..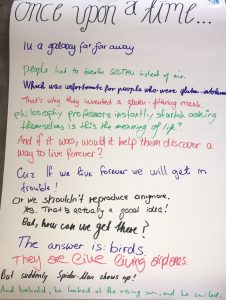 In a galaxy far far away people had to breathe GLUTEN instead of air which was unfortunate for people who who were gluten-intolerant. That's why they invented a gluten-filtering mask. Philosophy professors instantly started asking themselves is this meaning of life? And if it was, would it help them discover a way to live forever? Cuz if we live forever we will get in trouble! Or we shouldn't reproduce anymore. Yes, That's actually a good idea! But how can we get there? The answer is: birds. They are like living airplanes. But suddenly Spider-man shows up! And behold, he looked at the rising sun, and he smiled.
Once upon a time..
There was an English student who did not know what to write. She thought about it for hours when suddenly something very strange happened: A bright light appeared in the sky. Somehow it put a smile on my face.. and my cookie turned into a unicorn and the unicorn was glittering&pink. It was flying through the clouds. I had imagined the clouds to be soft and fluffy but the marshmallowness exceeded his wildest dreams. I saw a unicorn on the of the land. It was pink. It danced on a rainbow. And that unicorn had a huuuge d*ck which was why the one-eyed pirate was painting at it.
Once upon a time..
there was free campus-coffee but behold! It was poisoned by a giant purple dragon's claws. The wizard managed to destroy it. Out of thin air a beautifully-glittering fairy appeared and started rapping drake and got crazy about it because her grandma used to do that because she was the most badass woman he ever met because she's fond of adventures …. [continue for us on FB]